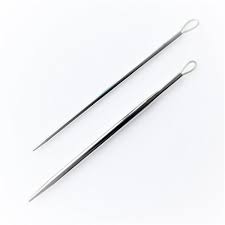 addiLoop Wool Sewing Up Needles
£475

£4.75
Tax included.
Shipping
calculated at checkout.
---
---
Addi make more than just their beautiful circular needles - here we've got the silky smoothness of their knitting needles and the strength of their cables combined in a different way to make some truly fabulous sewing up needles. Even with big-eyed needles I usually struggle to feed the yarn through but you won't have any problems doing that with these beauties. Plus, because the loop is flexible, if you're sewing through anything rigid you won't have the problem of the eye being thicker than the needle. 
You get two sizes here, a 2.5mm and a 3.75mm, in metal.
Bish Bash Bosh (and this is Casper talking, not Eleanor!)